Alif - Roll on Attar/Oil - 6ml | Nearest Match to Oud Wood by Tom Ford
Regular price
Rs.1,125.00 PKR
Regular price
Rs.1,125.00 PKR
Sale price
Rs.1,125.00 PKR
Unit price
per
Sale
Sold out
Description

Alif is an exotic composition of smoky woods for both regular and formal usage. ALIF represents ALLAH and we have specially chosen nature's extract i.e. OUD for it which represents the master creativity of THE ULTIMATE.Alif opens with a spicy aroma of Rare Oud, Sandalwood, Rosewood, Eastern Spices, and Sensual Amber. At its heart, revealing the compelling power of rich oud wood. The scent finally unveils accords of Patchouli, Tonks Beans, and Lavender.If you love Tom Ford's Oud Wood then you will fall in love with this scent too!If you are looking for a soothing vibe, this is your answer. Alif rejoices your soul with the calmness and soothing effect that connects you to the Creator and you feel being the nearest to nature and humans.Smoky, incense-filled temples and a passion for rare, precious oud wood inspire oud wood, a pioneering composition of exotic woods and spices. Evoking the enveloping warmth of incense-filled temples, this groundbreaking composition of exotic, smoky woods includes rare oud, sandalwood, rosewood, eastern spices, and sensual amber, revealing oud wood's rich and compelling power.

Specifications

Size: 6ml (Oil)Gender: MaleGenre: Arabic

Notes

Top Notes: Rare Oud, Sandalwood, Rosewood, Eastern Spices, and Sensual AmberMiddle/Heart Notes: Rich Oud WoodBase Notes: Patchouli, Tonks Beans, and Lavender.All of our blends are made from high-grade fragrances gathered from all around the world by top-notch manufacturers. We are sure that once you go SCENT YOU, You can't go back. We make simply the best and long-lasting fragrances keeping the atmosphere in view.

Instructions

This is pure fragrance oil and intense in fragrance, if you are using it for the first time, give it some time to emerge to its heart notes for the maximum results. Please check the fragrance once, give yourself few hours to understand the fragrance, in any case of disliking or unsatisfactory results, it is refundable in first 15 days of your purchase. All our fragrances comes with 15 days money back guarantee, in case of any un-satisfaction, we can refund/exchange your fragrance, feel free to buy it any time. For further information, please visit our Return & Exchange Policy page.
People loved our fragrances, Don't trust us? Check out the reviews for yourself.
Share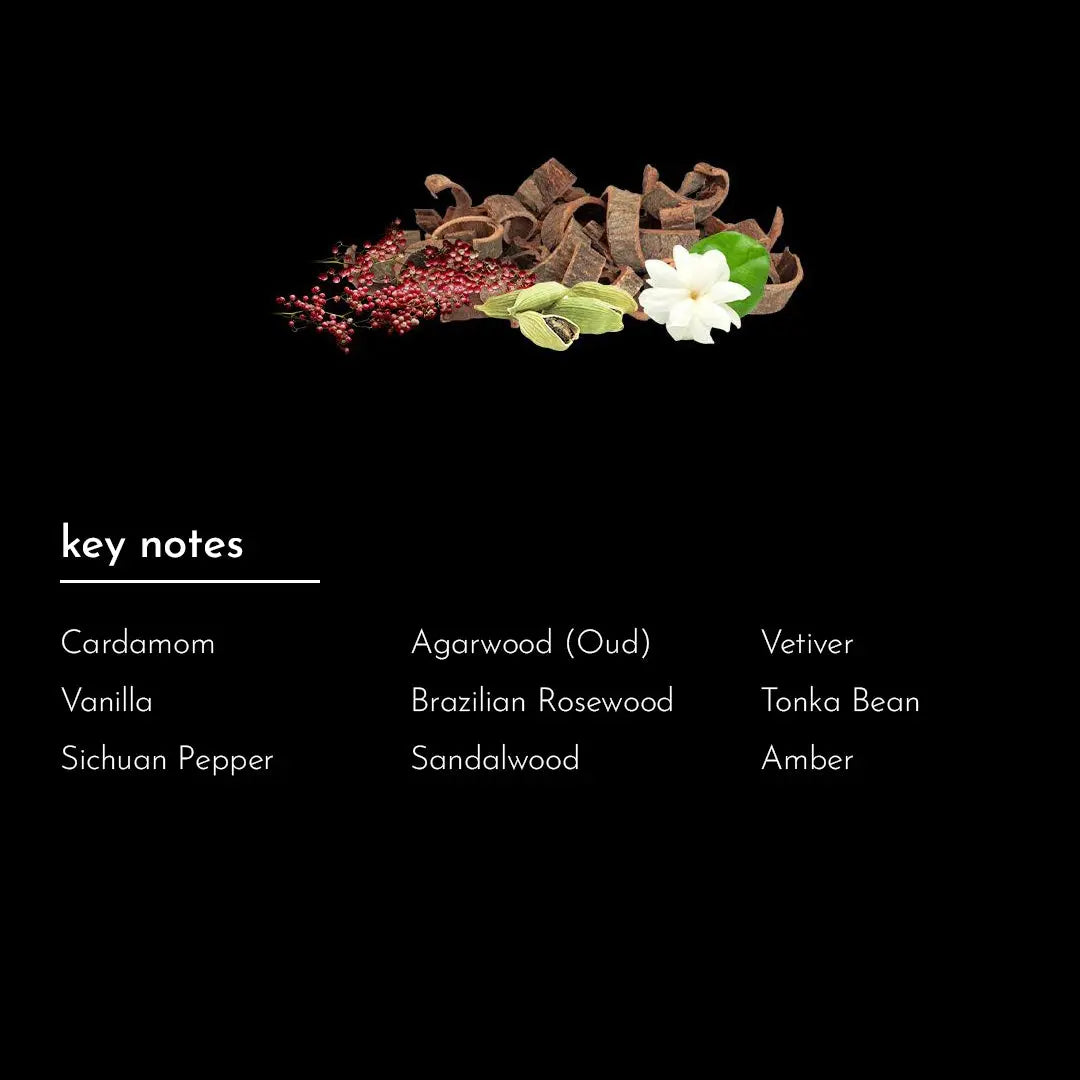 Whats inside the box?
"Alif" by Scent You is a mesmerizing fragrance that echoes the allure of Oud Wood by Tom Ford. Inspired by the exotic and intoxicating scent of oud, this captivating perfume combines the richness of rare oud wood with smoky notes of incense and aromatic spices. With a harmonious blend of warm amber and creamy vanilla, "Alif" unveils a sophisticated and enticing aroma that lingers on the skin. Immerse yourself in the enchanting world of "Alif" and experience the captivating essence of oud in a fragrance that exudes luxury and elegance.
Dont believe us?
We gathered public reviews by actively engaging with our customers through various universities and public spots. Our dedicated team reached out in-person feedback sessions. We encouraged honest opinions and valued every voice to continually improve our products and ensure customer satisfaction. Here is what they have to say.
Why should you buy from us?
Buy from us for exceptional quality, unbeatable value, and unparalleled customer service. We prioritize your satisfaction, delivering innovative products that meet your needs. With our extensive experience, we guarantee reliability and promptness. We respect and value the money hard earned by our customers, that is why we offer 15 days money-back guarantee, no questions asked. Our customers must not hesitate to buy from us, we assure you the safety of your amount until you like our products.
Our Customers speaks for us