Velvet | Nearest match to J'adore Dior
Regular price
Rs.2,800.00 PKR
Regular price
Sale price
Rs.2,800.00 PKR
Unit price
per
Sale
Sold out
Velvet is a fruity floral fragrance for modern women. The floral and fruity top notes of Magnolia, blend with the rare duo of Jasmine Grandiflorum from Grasse and Indian Jasmine Sambac that are full of fruity and voluptuous sensuality.
This perfume is inspired by J'adore Dior!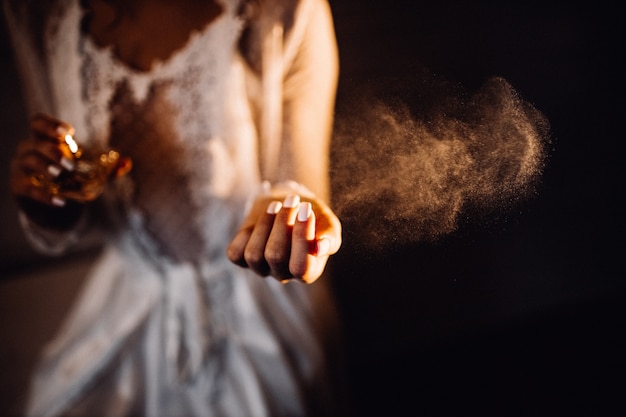 Velvet is a modern, glamorous fragrance, which has become incredibly popular, and for that reason developed in a number of variants of different concentrations. Velvet is a luminous fragrance. Its opulent, golden scent shimmers on skin like sunbeams. The classic and ambitions of this fragrance reflect in the fragrance with such amazing blends. Velvet represents a new conception of Scent You feminity, a scent so new and so in line with Scentyou style at the same time – sweet but balmy, slightly sharp floral with fresh mandarin in the top; jasmine, plum, orchid, and rose in the heart; and amaranth, musk, and blackberry in the trail.
Specifications:
Size: 100ml
Gender: Female
Genre: French
Notes:
Top Notes: Pear, Melon, Magnolia, Peach, Mandarin Orange, Bergamot
Middle/Heart Notes: Jasmine, Tuberose, Lily of the valley, Freesia, Rose, Orchid, Plum, Violet 
Base Notes: Musk, Vanilla, Blackberry, Cedar
All of our blends are made from high-grade fragrances gathered from all around the world by top-notch manufacturers. We are sure that once you go SCENT YOU, You can't go back. We make simply the best and long-lasting fragrances keeping the atmosphere in view.
Instructions
We send Pocket carrier FREE along with the standard pack, there are 2 purposes for that;
 If you are a fragrance lover, you cant carry the bottle always around, carry the pocket carrier, and refresh anywhere you want to. 

Open the box and try pocket carrier perfume to test the fragrance. Please do not open the bottle unless you are sure you want to keep it. If you like the fragrance, you can keep it and ENJOY it. If you don't like the fragrance from the pocket carrier, give it 24 hours. If you still don't like it, you can return the package as is and ask for an exchange or a refund.
Try the other fragrance we send as an extra. If you like it, don't forget to order.
People loved our fragrances, Don't trust us?  Check out the reviews for yourself.
Share
It's a captivating sweet fragrance.
Alhumdolilah. All by the blessings of the Allah Almighty. ❤️
We are trying our best to provide best quality scents possible to our customers. We ensure you we will keep on striving to provide best quality products to our customers. Thank you very much for your feedback.
Velvet | Nearest match to J'adore Dior
Thank you for your feedback sir. Please let us know if we could improve ourselves.
Good Quality
A classy fresh floral thats sweet as well. Smells very put together and has a sophistication to it. Love it.
Excellent Packaging and Fragrance
This is journey for sure. Velvet does all the notes delicately with a classy vibe. A very nice experience! Some have said business/formal, but it can also be an ambient fragrance for whatever.
Why should you buy from us?
Our Customers speaks for us